Congratulations to the A+D Design Award Winners!
Exhibition forthcoming



The Iceberg by Shanar Moslehy and Anush Harutyunyan for Bigger than a Street, Smaller than a City



The ICEBERG project is an attempt to design the first urban scale off-grid prototype with a regenerative system within a walkable neighborhood on the east side of the Los Angeles River, for a population of 30,000 in a 150-acre land.
Bigger than a Street, Smaller than a City is made possible by Category Sponsor
Plus Development Group.
Open Grounds by March Studio Honorable Mention for Bigger than a Street, Smaller than a City
---

What if Zine #1 by Camille Ora-Nicole for On The Desk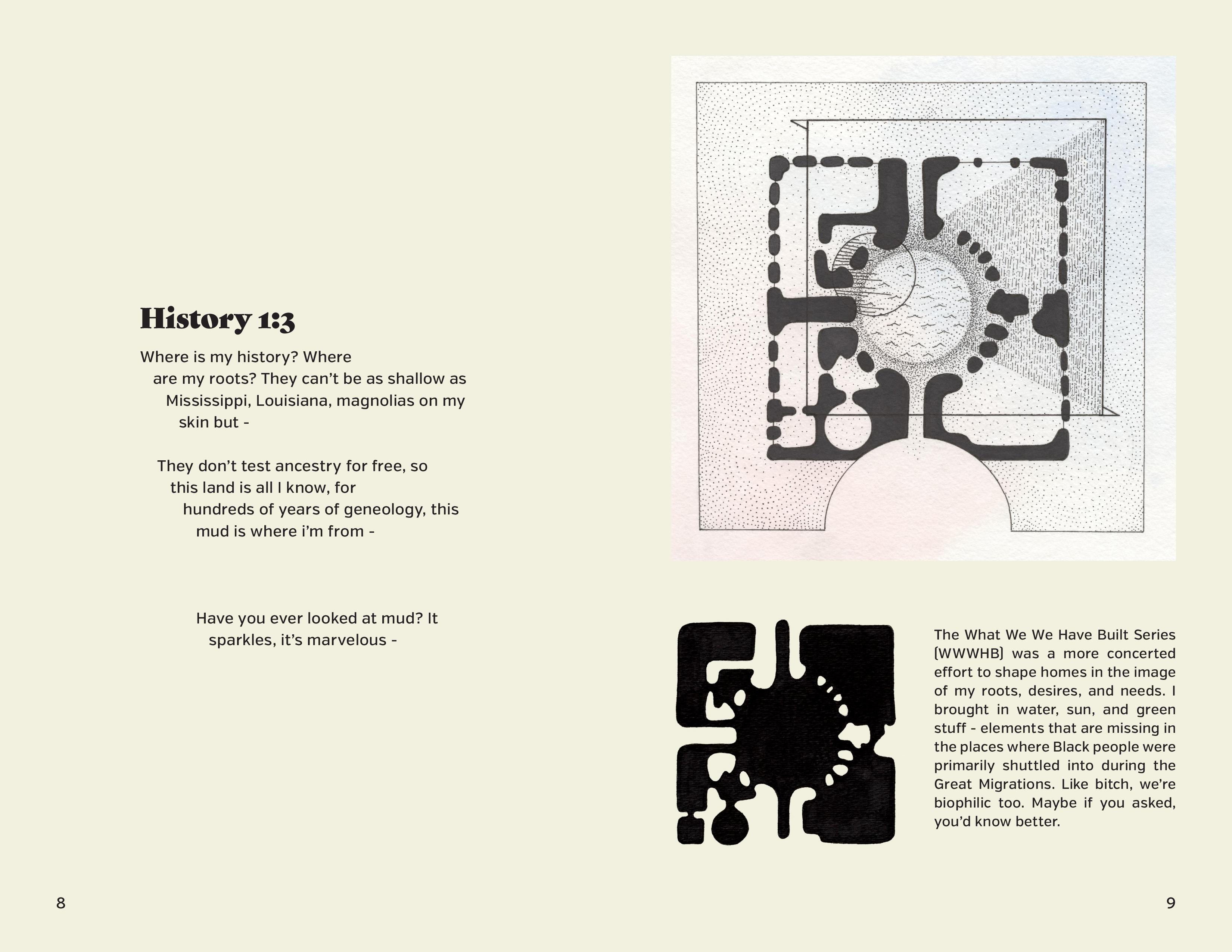 The What If Zine covers the development of the What Would We Have Built series of illustrations. This series takes a look at design and the vernacular through an intersectional lense.
On the Desk is made possible by Category Sponsor
Alonzo
Construction Group.
Little Berkeley Transitional Housing by Kevin Daly Architects Honorable Mention for On the Desk



---
Experimental Chop House by Eliot Ball and Emily Dobbs for In School
An architectural exploration of a vertical octopus farm in downtown boston that explores the notion of occupants as particle moving through space. The tower is a series of moments that vary in density, comfort, and scale and that challenges the occupants' notion of consumption.
In School is made possible by Category Sponsor KAA Design.
Other Authors by Isabella Pina
Honorable Mention for In School
Signotology by Danny Baxter
Honorable Mention for In School
---
City Thread by SPORTS for Bigger than a Model, Smaller than a Street
The project was developed by River City Company, a non-profit economic development organization, as part of their ongoing investment in the revitalization of downtown Chattanooga and was designed and built by SPORTS, the architecture and design collaboration of Greg Corso and Molly Hunker.
Bigger than a Model, Smaller than a Street is made possible by Category Sponsor KAA Design.
---
Uxmal Arts District by Synthesis Design + Architecture for Still on Paper
Uxmal is a unique 24,000sf art event space for architecture, fashion, music, and the arts housed within the upcoming Arts District Center designed by AC Martin in the Arts District of Los Angeles.
Still on Paper is made possible by Category Sponsor Alonzo Construction Group.
---
Sympathetic Motion by Berfin Ataman for On the Street






Sympathetic Motion Series investigates relationships between mechanical objects that have physical qualities within a closed system and the system's relationship to the architecture and the audience. It is a meditation on how two very separate entities like the visitor and the art piece can affect each other physically but not be aware of the unseen consequences that may follow their physical interaction creating an architectural mutualism.

On the Street is made possible by Category Sponsor Clark Construction.

---
Lloronas of Juárez by Albert Orozco & Edward Rivero for On the Wall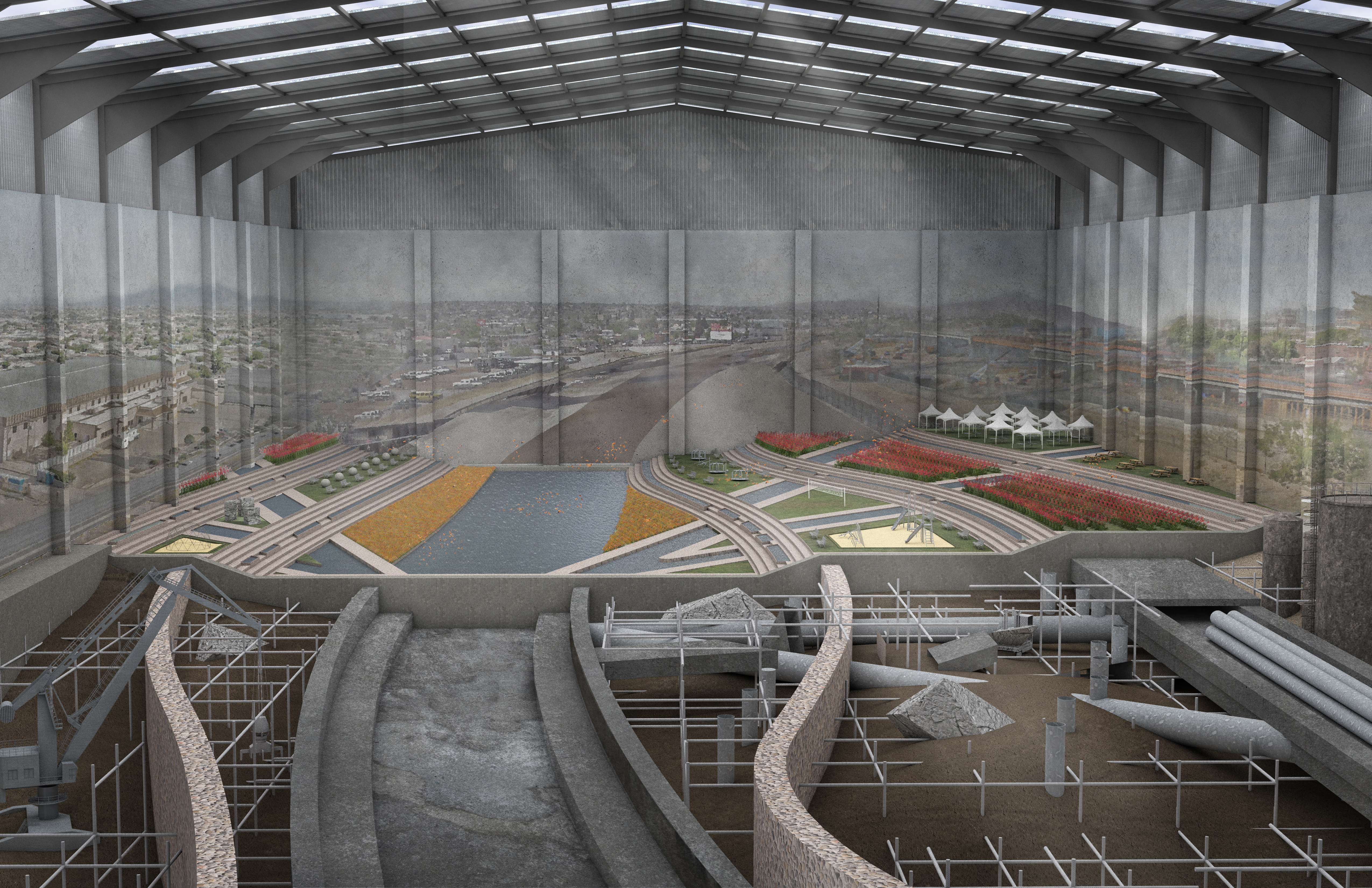 "3:33 am

Ma, Ma, Mama!

Where are you mom?

Juanito woke up from a nightmare on the cold ground floor covered in sweat. His thin space blanket laid a few inches from his grasp and his dilapidated sleeping pad had slipped underneath his feet. Auntie Margarita, who slept next to him, woke up to his screams and began to caress his shoulder.

"shh...shh...shh, everything is going to be okay," Auntie Margarita whispered.

"I saw La Llorona, the wailing woman, in my dream Auntie" cried Juanito. She was wearing a white dress, trailing me through the Rio Grande in our old city of Juárez, screaming "oh my children, where are my children." She caught up to me, grabbed me, and then I woke up. Ay! Auntie, I am so scared!""

Full Narrative will be made available soon.


On the Wall is made possible by Category Sponsor Clark Construction.
Catoptric Surface by Chandler Ahrens Honorable Mention for On The Wall


Farmhouse Scatter by Dylan Krueger Honorable Mention for On The Wall



---
CCC - the column, the caryatid and the chiton by Matthew Gillis and Parsa Razaee for On the Floor or Ceiling

The interpretation of the the column, the caryatid, and the chiton, CCC, reflects upon contemporary and social conditioning of the 'body' in space as an installation for the Unmentionables Symposium. CCC is at the entry of the WUHO gallery demarcating a threshold or vestibule for one's reflection in the mirrored material of the column, before submitting to the refuge or indulgences of the sympotic event. A person's image or reflection onto the column posits a contemporary version or filter of a caryatid, the caryatid-selfie.

CCC is released from the confines of a base and capital by representing them as a flattened graphic relief. This references a freedom found in the contemporary collapsed global cultural milieu.

On the Floor or Ceiling is made possible by Category Sponsor VS America


Vents by Catty Dan Zhang Honorable Mention for On The Floor or Ceiling


---
Koreatown Gateway by John Friedman Alice Kimm Architects for On the Screen


One of Los Angeles' most visible immigrant groups is its Koreans, notable for reviving urban life in the heart of Los Angeles. Koreatown Gateway, a new urban marker in the center of "Koreatown", was conceived as an emblem of Korean identity as well as of the longstanding friendship between Los Angeles and South Korea. It is designed to reference Korean cultural traditions without resorting to mimicry.

The beauty and usefulness of this approach is that it speaks to many complex issues. First, it suggests the inevitability of assimilation. Second, it is inclusive, rather than exclusive, of the many ethnic peoples who live and work in Koreatown. Third, it is open to interpretation, and as neighborhood "boundaries" shift, it will remain as a celebration of urban living regardless of who lives there. Finally, its use of programmable LEDs, which can generate any sort of image, is an example of the kind of technological innovation referenced above – which also speaks to the forces of technology and globalization that unite, rather than separate, this dynamic metropolis.
On the Screen is made possible by Category Sponsor Plus Development Group.
Awards Beyond the Norm

The A+D Museum Design Awards break away from the traditional award program structure to recognize the work on contemporary design space fringes. Through the

jury

and

categories

, the awards are designed to acknowledge the cross-disciplinary and multi-experiential reality of the architecture and design community. They are a moment of recognition for those designers and architects who do not fit the mold, who can be appreciated not only by experts in the field but also by those outside. These are awards for those who venture beyond the confines of traditional architecture and design.