Honorable Mention
For On the Floor or Ceiling Presented by VS America
Project Specs


Project location: Storrs Gallery
University of North Carolina at Charlotte, NC, USA

Completion Year: 2018

Gross Built Area: 1,700 sqft

Type:
Exhibition Design
Temporary Installation
Responsive Environment

Artist Statement


The environmental and mechanical concept of "vent" typically involves air moving between spaces with the presence of physical paths. This project, titled "VENTS", relates air movements in separate locations through the transmission of data using responsive technologies. Designed as an immersive installation for a group exhibition based on the development of a modular unit made out of ready-made products, it explores how forms of the moving air could be articulated as dynamic spatial devices that trigger senses beyond sight.

At 8' above the floor, a grid of suspended umbrellas emits a "rain" of air puffs. Each umbrella module consists of a pair of air chambers with kinetic mechanisms reacting to computed environmental data that hybridizes real-time local wind speed with a recorded set of the Hurricane Florence. These "breezes", felt on the skin, become visible as rings of colored droplets of fog and light while exiting the chambers.



While this transparent "ceiling" alters the perceptual scale of the gallery, the 1-½" thick black rubber mulch underfoot, on the other hand, provokes tactile sensations. In between these two surfaces, nine vertical PVC pipes connect a horizontal mesh of flexible tubing system to fog sources hidden beneath the image stands on the floor.

By synthesizing media, data visualization, and physical computing, VENTS stitches ten contributions of the group show into a choreographed experience that rethinks the spectatorship in a contemporary exhibition setting.






As visitors finding their own paths wandering between images and digital screens oriented non-orthogonality, they at times encounter fog rings passing by, dancing on the mulch, or collapsing onto the skin. The visualization of environmental fluctuations elsewhere becomes multi-sensorial spatial interface that alters typical viewing activities. The dynamic nature of airflow transitions quantitative data into qualitative and playful effects, the formation of which is a result of precisely controlled systems.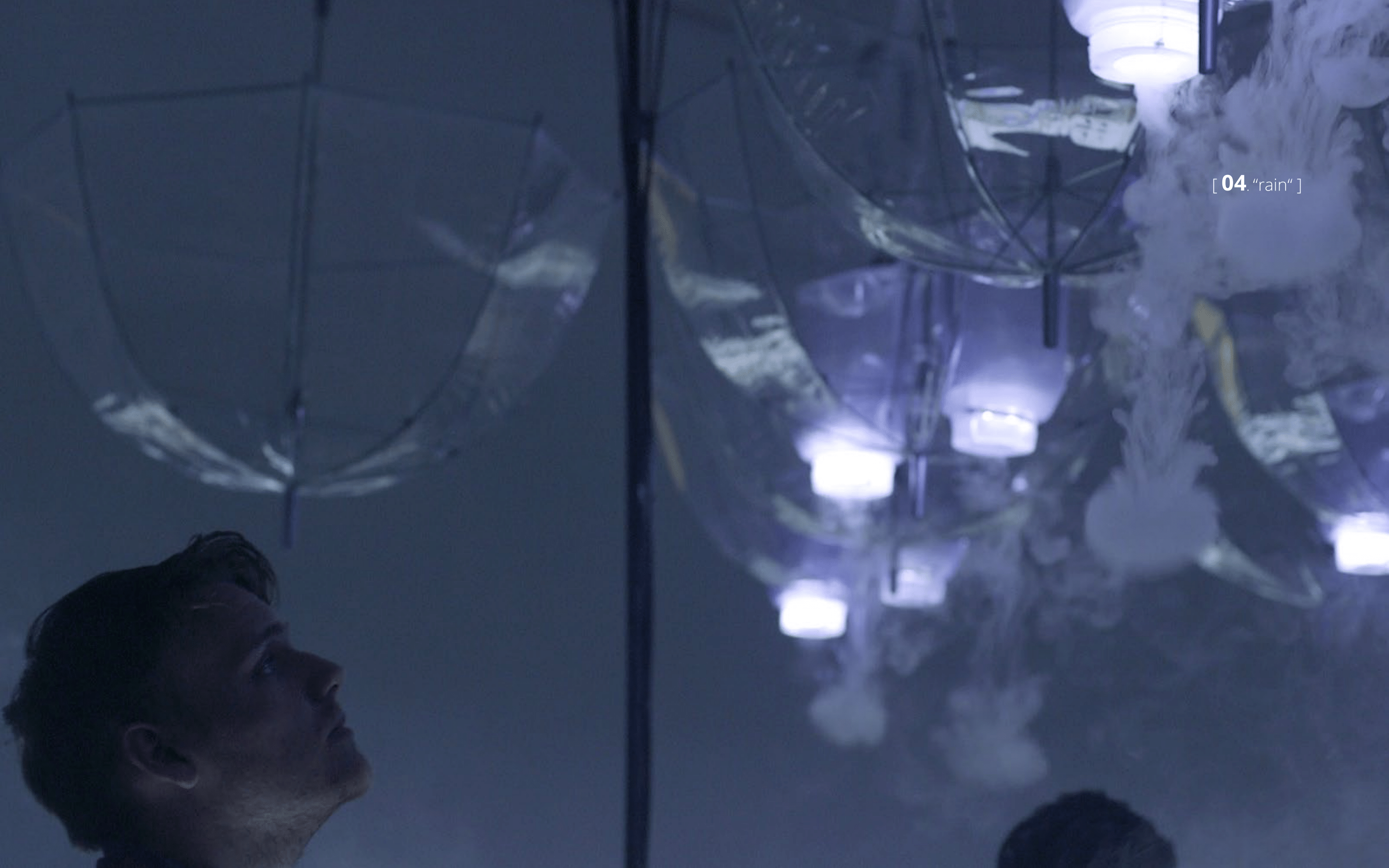 The Artist


Catty Dan Zhang is an assistant professor of architecture at UNC Charlotte. Her research and practice explore the design of active atmosphere at the convergence of digital media and architecture. Employing atmospheric and computational mediums, her work translates ordinary objects into performative and synergistic systems across scales to visualize and to modulate ephemeral forms. Zhang was a finalist of the Wheelwright Prize in 2018, received recognition in the AN Best of Design Awards in 2019, and was the winner of the inaugural Emerging Designer's Exhibition Competition and had her solo exhibition entitled "The Moving Air" at UC Berkeley in 2020, exploring a cultural-environmental paradigm of the form, sequence and rhythm of airflow as spatial agencies activating sensorial and social events. Her design work has been featured in exhibitions at the London Design Festival, Carnegie Museum of Arts, A+D Museum, Harvard GSD, UNC Charlotte, among other institutions. Zhang holds a Bachelor of Architecture degree from Tsinghua University, a Master of Architecture with Honors from Washington University in St. Louis, a Master in Design Studies degree in Technology from Harvard University Graduate School of Design where she was the 2017 recipient of the Daniel L. Schodek Award for Technology and Sustainability. She has practiced within the US and internationally.

Photos by Toby Shearer, Ben Premeaux, and Milad Rogha
The Category

The 'On The Floor or Ceiling' Category was open to any type of work experienced on the floor or ceiling, this ranged from sculptures, furniture, product designs, light fixtures, etc. The concept behind the category came from the museum's apprection of design in every day life.
Generously Sponsored by