Honorable Mention
For On the Desk Presented by Alonzo Construction Inc.
Little Berkeley
Transitional Housing
by Kevin Daly Architects
Aerial View of South East Corner
Artist Statement


This project seeks a form to meet the unique needs of one of the most housing-precarious segments of our society: transitional- aged youth who have recently emerged from foster care. Without a credit history or family network, options for housing in California's least affordable housing market are virtually nonexistent.

This 5,000 square-foot, eight-unit complex planned in a beach side Southern California city eschews both the dormitory conditions of typical transitional housing and the normative dingbat courtyard of much of the surrounding residential fabric. The basic module for the project was generated following conversations with participants in a local program serving transition aged youth. Former foster kids emphasized privacy, security, and social connection as essential domestic characteristics for the project and became the basis for individual units organized in geometric primitives that provide each resident a space of their own that can be altered to meet their specific needs. Optimized for prefabrications, L-shaped units in two plan configurations provide a public downstairs and a sleeping loft, acknowledging that some of these resident kids may also have kids. Large windows at the second level provide natural light and allow the unit to remain open to cross ventilation.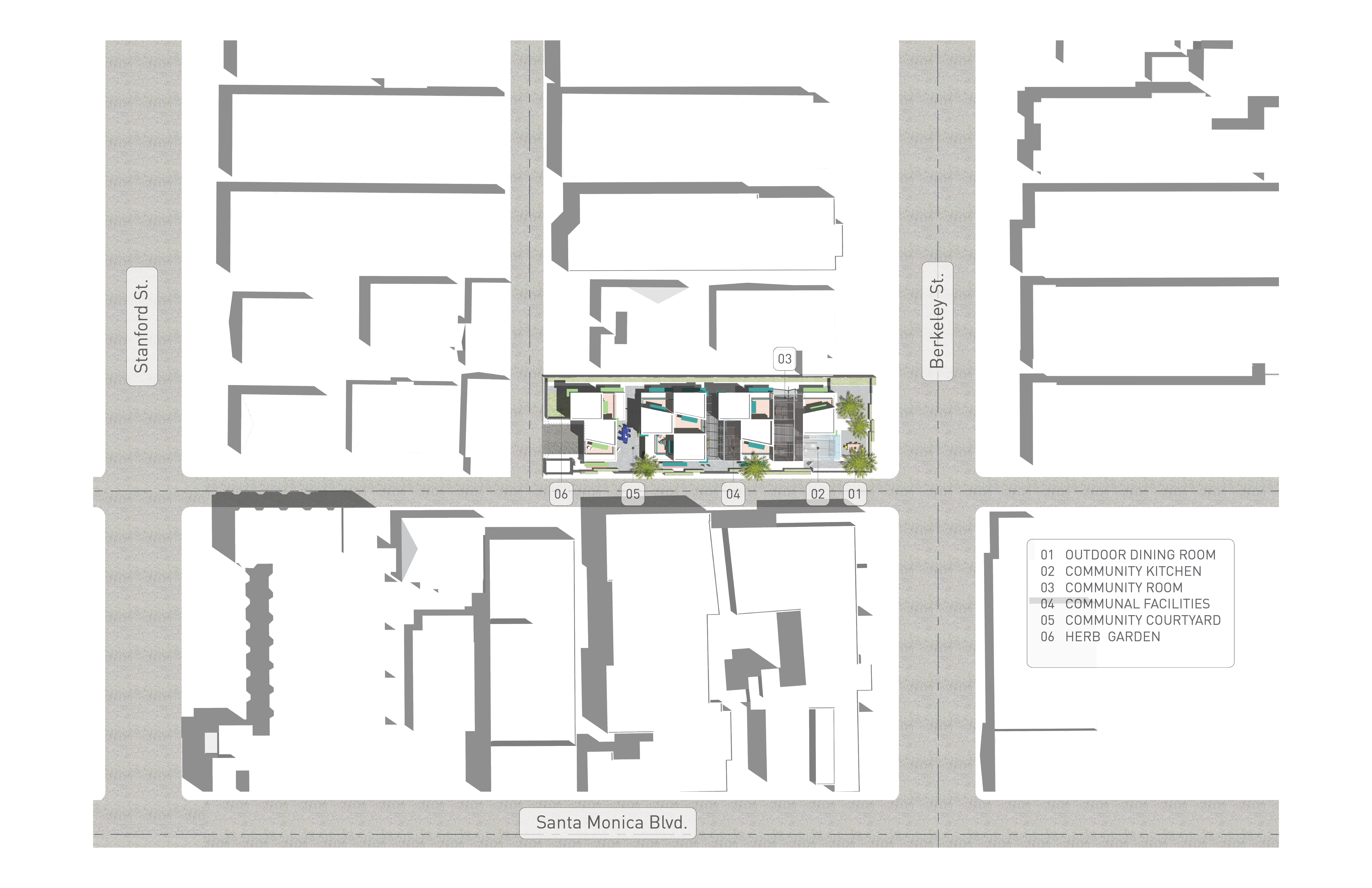 Roof Plan


Aerial View

Elevation South
The units are arrayed in precise, Tetris-like clusters that utilize almost the entire surface of the site. Terraces are provided at the second level of each unit, reclaiming a portion of the site area taken up by the building as private outdoor space. The maze-like spaces between these housing clusters form courtyards and shared living and cooking spaces that reinforce the social program of the project. Some of these communal spaces are shaded by trellis-like roof elements and solar panels that, in turn, power the units.
To keep within that project's modest budget, the firm decided to build the complex directly on top of the site, avoiding the expense of an elevator that typically accompanies the city's bias towards podium-based housing. With its intense utilization of site resources and balance between private and communal space, this project offers a promising solution for other housing-precarious groups in Los Angeles seeking a safe, affordable place to live.
Elevation Detail


Breezeway Detail
Elevation East


Communty Room
South Terrace View
Community Kitchen
The Artist


kdA (kevin daly Architects) is an architectural practice based in Los Angeles and New York City. With a focus on craft, construction systems, and material research, our work interweaves innovation in technology and fabrication, new approaches to sustainability and urbanism, and a commitment to livability and economy.
Since establishing the firm in 1990, Kevin Daly has guided a design process that upholds the practical magic of architecture – an alchemy of craft, materials, and form. Buttressed by project-directed research, the work of kdA pursues design excellence in the public realm creating communities for education, the arts and dwelling, often by giving a second life to existing buildings through reclamation and reconsideration. The firm's award-winning portfolio includes environmentally and socially responsive educational, residential, and institutional projects ranging in scale from single-room artist workspaces to campus master planning.

Project Team:
Structural Engineering: Workpoint Engineering
MEP: Novus Design Studio
Civil Engineering: Obando and Associates
Landscape: Tina Chee Studio
Green Building: Verdical Group
Acoustics: Newson Brown Acoustical


The Category

The 'On The Desk' Category was open to any type of work experienced on a flat surface, this ranged from (architectural) models, prototypes, books, magazines, etc. The concept behind the category came from the museum's apprection of design in every day life.


Generously Sponsored by